Recruitment and Selection
Selection Process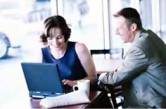 For a good perception of the clients wishes, demands and possibilities, Excellence Search starts with interviews concerning the organization structure, the strategy, the business culture and market developments. Furthermore there is a broad focus on the contents and requirements of the position. With this knowledge Excellence can provide the candidates with a good impression of the organisations.
After the intake interview the client receives a written report of the situation according to our view:
Approach
The background and setting of the organization: the founding of the enterprise, the market position, the number of employees, the product or service, specialisations.
The content of the position: the level in the organization, the hierarchy, the size of the division, the internal and external relations.
The position requirements: the professional experience, the educational level, specific qualities, mobility.
Personal Consultant
During this search process the consultant remains the clients contact person and provides the client with weekly updates about the latest developments in the procedure.
Screening & Selection
It is the goal of Excellence to introduce three-qualified candidates within a period of two months. These candidates already have been interviewed and are well informed about the position. These candidates will be introduced to the client through their resumes.
Planning
Excellence Search takes care of the planning and the arrangement of the interview-conversations at the client. As soon as the final candidate is selected, Excellence Search will carry out a thorough verification of the candidates references, which will be evaluated with the client. Additionally Excellence Search can support in the salary negotiations.
Personal Coaching
During six months after the placement, Excellence Search coaches and guides the placed candidate in the new position through monthly evaluations. This process is done in consideration with the client and according to the profile of the position. In this way the client has the opportunity to communicate desires and possible adjustments, with the assistance of an 'external party' if necessary. For the candidate this provides a 'sparring partner' outside the organization who is familiar with the situation and with whom the candidate can talk about the experiences without restrains.
Before the start of the assignment the client makes up a salary indication that is based upon the position level, age, experience and internal guidelines or agreements.
Before the start of the assignment an assignment fee will be agreed upon with the client. This fee is based upon a fixed percentage of the estimated total gross income of the candidate.